BIO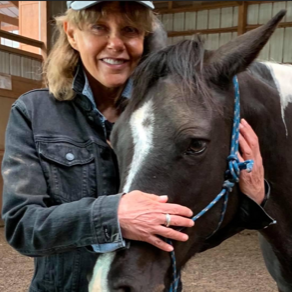 Award-winning indie rocker Sal Landers began writing songs at the age of ten. These days whether performing solo or with her band Sal Landers' Party Rx!, she brings the same intensity and love for her audience that made her a stage legend in her touring days. Known for her dynamite-laden stage presence and impassioned Pete Townsend-ish rhythm guitar playing, Sal belts out the tunes in her raspy voice, infusing the audience with a fiery spirit and the uncommon embracement of unapologetic electrifying grit and hard-won introspection. Sal's candor, both on stage and off is real, raw, vulnerable and honest. This is a woman who thoroughly understands and enfolds the shared celebratory experience of human resolve and survivorship. Based in Asheville, North Carolina, Sal lives by the adage of "pay-it-forward" and performs extensively for benefit and non-profit organizations that serve to bring help and hope to our communities both local and nation-wide.
Raised in Laurel Canyon in the Los Angeles area where Crosby, Stills, & Nash, Jackson Browne, and Joni Mitchell were forging the folk/rock scene with their hippie-infused counter-revolution music in the 1960's, Sal Landers says her earliest memories are of her parents playing Sinatra and Belafonte on the record player. The Beatles were her biggest influence, however, after excitedly watching them perform on Ed Sullivan for the first time in 1964 when she was just a child. Incredibly, she also had the chance to see them perform live at their 1964 concert at the Hollywood Bowl. Sal laughs that while all the other girls at the time wanted a Beatle as a boyfriend, she actually wanted to BE a Beatle. So much so that Sal's father nicknamed her "Beatlehead", and Sal's mom faithfully took her to the local record store to buy each Beatle album on the very first day of its release. Infatuation with the Beatles' inimitable vocal harmonies and catchy arrangements opened the door for Sal's burgeoning interest in music in what would ultimately become a lifelong passion and a monumentally defining force in her life. In just a few years' time she'd be sharing the stage with such artists as Alabama, Taylor Dayne, Roy Clark, The Tubes, Eddie Money, Chris Williamson, Holly Near, Joan Jett, Linda Perry, Gina Gershon, Will Smith, Sandra Bernhardt, M'shell Nedegacello, Judy Tenuta, and Suzy Q, just to name just a few.
When asked about her passion for the guitar, Sal says her family remembers her sitting in front of the television at age two pretend-strumming a guitar to the Lawrence Welk Show. Her parents eventually bought her a little Mickey Mouse guitar that she carried everywhere. When she was 10, her parents bought her a big classical guitar for Christmas, which she says was stuck to her like glue because she loved it so much, even though it was gigantic and difficult for her to play. Her father wrangled a deal with a local hippie window installer to give Sal guitar lessons in exchange for putting new screens on the house. He showed Sal three chords: A, D, and E and she quickly learned how to play "Ruby Tuesday" by the Rolling Stones and "Pushing Too Hard" by The Seeds. She took off from there, learning to play Beatles songs and sing harmonies in her room after school. She wrote her first song at ten titled "Who's There" and made her first public appearance in the 6th grade singing "(I'm Not Your) Stepping Stone."
Sal studied and played guitar throughout High School, eventually landing her first job as professional musician at age 25 playing a 50's vintage Fender Strat and a Gibson ES-175 with a local lesbian country/disco band named Angel Fox who were based in Sacramento, California. Eventually she moved to SoCal to be near her aging parents. Once settled, she started doing solo performances and was also cast for the part of Casey Buchanan, a rising lesbian rockstar, in the world's first gay soap opera, Secret Passions. The show was so controversial at the time that the producers inadvertently got tons of press and the show was being featured in Time Magazine, TV guide and The LA Times. The show also featured one of Sal's songs, a melancholy, raw ballad called "Want Your Love". Having earned her college degree in Criminology at Cal State University in Los Angeles, CA (and later in life a Masters degree in Organizational Leadership from Chapman University), Sal went on to apply for a job as police officer and edged out hundreds of other applicants to get the job. She ended up quitting two days in, however, realizing that she wasn't suited for the job.
A career as a cop may not have been in Sal's cards, but something far more exciting was coming her way as a rising star in the Women's lesbian community. With her band The Fixations (thoughtfully including a sign language interpreter who traveled with the band), Sal headlined many of the West Coast Gay Pride Festivals, Yosemite Women's Music Festival, and eventually the huge Dinah Shore Girl Bar with Lea DeLaria (of Orange Is The New Black). "Want Your Love" was also later picked up by TV shows Dawson's Creek and Time Of Your Life via a publishing deal with Sony/TriStar Television.
All was not as it seemed, however. Simmering surreptitiously just below the fandom, bright lights and glitzy rainbows of burgeoning rockstar success was Sal's ever increasing dependence on cocaine. In 1994 when her drug use had become dangerously out of control, she says that she was "on the verge of hell". She decided that none of the glories of stardom were worth it if she was going to let drugs devastate her life, so she checked herself in to the Betty Ford Center. She completed her 28 day stay and emerged a new person— sober, clean, and grateful to be alive. Sal has gone on to maintain long-term sobriety and has been extremely active with sponsoring and service in local 12-step programs. Sal says, "Everything changed when I got sober February 2, 1994. Over time I've learned that we are all expressions of divinity, of the universal spirit, the energy, it's love. Everything is either love or fear. Everything comes under one of the other. I really believe our gifts are given to us so we may be expressions of love and help others".
By age 28, Sal was a seasoned solo artist performing both nationally and in Europe and Japan. In the mid-1990's Sal decided on a line up change and The Fixations transitioned to become the all-female band Sideswipe. The band saw early success and embarked on an exhaustive touring schedule in the USA, and Europe. Sideswipe drew praise and slack-jawed interest due to the rarity of an American all-female indie/pop/rock power trio. Talented and musically adept, Sideswipe toured Europe three times, released three CD's and won two awards with OCMA for Best Alternative Rock Band and Best Acoustic Group. The band was also listed as "Top 100 OC bands Of All Time" and "OC's Most Rockin' Band" by OC magazine readers. The band was known for it's dynamic, emotion-packed, sweaty performances, with front woman Sal often deliberately veering off-course with on-the-fly mid-song jams. The band was often likened to a female version of The Who, led by Sal's aggressive rhythm guitar (often leading to bloody hands) and husky vocals.
Sal's infectious energy and rockin' vibe on stage serve to ignite the collective spirits of the audience inviting them in closer for a focused dose of raucous rock n' roll and feel-good frenzy. Juxtaposing muscular, killer rhythm guitar (with lots of open droning strings in the Stephan Stills and Pete Townsend style of playing) with husky vocals, Sal's music is influenced by the legends of 60's and 70's rock including: The Beatles, The Who, Stevie Nicks, Rolling Stones, Tom Petty, Bonnie Raitt, Tina Turner, CSNY, CCR, Pete Townsend, The Beach Boys, Janis Joplin, and Led Zeppelin, to name a few. Sal is also quick to site Otis Redding and Aretha Franklin as  important vocal influences, noting that both of these artists' raw and vulnerable emotive singing styles had a tremendous impact on her.
Of her command of the stage Sal says, "People have told me I have an extremely high energy type of style on stage. Alan Rinde from Genghis Cohen said I'd get on a stage and I owned it, it was mine, I took control and did everything I could to bring the audience in. I'm always looking to bring the audience in to connect with the band, in essence be part of the band, so they were all in it together. Connection, connection, connection. Make it more about the audience. We're just a conduit. I try to get people moving, dancing, clapping, singing… whatever it takes so they feel like it's THEIR show. Even when solo this is my goal". She goes on to say, "I love performing the most because of the energy that an enthusiastic audience shoots, like a tidal wave of HUGE energy. It's palpable. You feel it. A flood of dopamine and endorphins. Watching people move, dance, sing along, be engaged, hopefully experience joy and forget about their troubles… it's a wonderful thing to be a part of. That's why it's not really about me… I'm like the head cheerleader/facilitator… it's an energy loop created by connecting with the audience. It's the high of all highs. It's an incredible feeling. It's like a total bonding moment. This oneness with the audience is the most incredible thing for me. I get a total physical rush from it. It's the best, the greatest feeling in the world and I know that I have no choice but to do this."
Clearly, this is a veteran musician who loves to perform and knows how to put on one hell of a show.
Sal recorded three albums with Sideswipe including a greatest hits compilation released in 2002. This CD showcases the band's smartly crafted, pure but sophisticated brand of rock layered deeply with hints of Beatle-esque melodic harmony and mesmeric Tom Petty-ish pop hooks. Topped with Sal's raw and honest lyrics that speak of pain, loss, relationships, trust, empathy, and loneliness, this is indie/pop rock at it's finest, easily going head-to-head with of some the best artists this genre ever produced.
The band played and toured continuously for about eleven years before disbanding in 2003 due to personal woes.
With the release of Napster in the late 1990's, the music industry began to change in an alarming way. Analog recording, CD's and world-wide touring would eventually go the way of the dinosaur. Aware of this, and also in her late 40's at the time and exhausted from decades of touring, Sal decided to branch out and made a move into doing something that wasn't music-centered. A family member offered to guide her into the real estate business, and she accepted. Sal learned the ropes and made her way up the real estate investor ladder, but still played solo gigs and benefit concerts, never abandoning her love of performing.
In 2014, Sal received a breast cancer diagnosis. Unsurprisingly, this neither slowed down nor deterred her from continuing to show up for her leadership roles as worship leader at St. Andrews By The Sea in San Clemente and Capo Beach Church Bridge to Recovery. She even surprised the congregations when she showed up to lead the bands three days after her second surgery. Having endured six surgeries in total as a result of the cancer, maintaining personal health is exceptionally important to Sal. In her time off she keeps fit with Ashtanga yoga, weight lifting, rowing, running, waterfall hiking, and E-biking. Sal also enjoys horseback riding, reading and writing, and jamming with friends whenever she can.
Sal is based in Asheville, North Carolina after deciding to move away from the Los Angeles area, her longtime home base. Sal fell in love with the Asheville area after a recent one-month visit. She says she loved the warmness and friendliness of the Asheville folk she met, in addition to the gorgeous landscape, and decided "on day two" that this beautiful city was where she'd spend the rest of her life. She took the plunge and packed her stuff. Sal drove cross-country with her guitars and gear in tow, including her very favorite guitar that she bought in 1979. "It's a 1966 Fender Telecaster that looks like Bruce Springsteen's Tele. It's a magical instrument. All the electric sounds on the A&M record were done with that Telecaster". "My goal is to use music to bring hope to people. Let people know they're not alone. Loneliness is an epidemic now throughout the world. The true universal language is music….and love."
Sal is eternally grateful for all of the support she's had over the years. She has a pay-it-forward outlook on life and continues her practice of offering inclusive, inspiring entertainment to benefit organizations and communities in need, either performing at no charge or always donating back 100% of all proceeds. She's played countless benefit concerts over the years including the Los Angeles LGBTQ Center, Laura's House Domestic Violence Agency, AIDS Walk LA, AIDS Walk Long Beach, Baby Buddies, ASPCA, and the Humane Society, plus numerous private events to help folks in need. Never taking life itself for granted, Sal says this is about giving back to her local community: "Surviving it all has turned me into a Hope Activist. I know I'm blessed to be alive, that every personal and professional storm is a time to grow kinder and wiser … to share the love, grace and mercy that as been freely given to me. My commitment is to pay it forward in service, with gratitude and love".